We are a family owned and operated Montessori School in Spring, Texas. Our objective is to cultivate the active minds of our students and allow them to discover their own strengths and talents. We strive to empower them to love and respect others.
We have over 25 years experience in Montessori teaching.Our teachers are Montessori Certified, holding a 2- year Montessori certification. They offer positive guidance in spacious classrooms and strive to foster a love of learning in our students.
Have Questions?
Montessori materials are referred to as "work"
The work in our classrooms is all hands-on, concrete materials. The work is kept on the shelves so the children can access it easily and return it when completed. Although there are many pieces of work on our shelves, the child chooses the work after a group lesson has been given by the teacher. This ensures that the child is choosing work that is appropriate for their developmental level. The shelves in our classrooms are divided into different content areas: Language, Math, Sensorial, Cultural, Practical Life, and Writing.Our curriculum is based on the academic and social needs of each child. This means your child will receive an individualized academic education. Each child is able to move at his/her own pace. The sky's the limit!
 The teacher has an unobtrusive role in classroom activity; the child is an active participant in learning. Child sets own learning pace to internalize information.
Environment and method encourage internal self-discipline.
Children are encouraged to teach, collaborate, and help each other.
The child chooses own work from interests and abilities and works as long as she/he wishes on the chosen project.
Child spots own errors through feedback from the material.
Children work where she/he is comfortable, moves around and talks at will (yet does not disturbs the work of others); group work is voluntary and negotiable.
 The teacher has domain, active role in classroom activity; the child is a passive participant in learning. Instruction pace usually set by group norm or teacher.
The teacher acts as primary enforcer of external discipline.
Most teaching is done by teacher and collaboration is discouraged.
Curriculum structured for the child with little regard for child's interests and is given a specific time limit for work.
If work is corrected, errors usually pointed out by the teacher.
Children usually assigned their own chair in daycare; encouraged to sit still and listen during group sessions.
""

Anne Frank

Anne Frank's famous diary was a natural extension of Anne's Montessori elementary school experience.
""

Larry Page and Sergei Brin

founders of Google
""

Jeff Bezos

founder of Amazon
""

Julia Child

The cook, and writer who taught Americans to love, prepare and pronounce French dishes, attended Montessori school.
Have Questions?
We Will Get Right Back With You!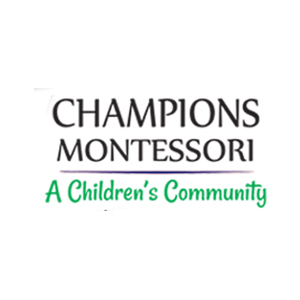 [google-reviews-pro place_name='Champions Montessori School' place_id=ChIJeUoBNXDNQIYR9WMXzN5jRq4 view_mode=list lazy_load_img=true]